See My Big Block Camaro In The August 2007 Edition Of Camaro Performers Magazine
This car is extremely fast, solid, and runs and smells like a new car. Every nut, bolt, and part has been restored or replaced.The 400 horsepower 396 big block is unbelievable!!!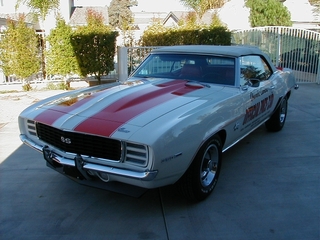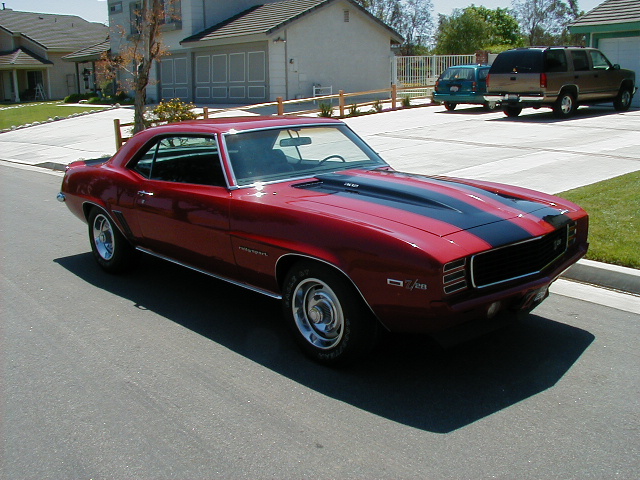 My Z28 After Restoration
My '69 Z28 was in great condition when I bought it in April of 2000. The paint was over 10 years old and still shined, as you can see, and the interior is original except for newer carpet. When the project is finished, it will have a completely rebuilt, balanced and blueprinted engine, with all numbers and date matching parts and accessories. I purchased parts from Jerry MacNeish and other sources throughout the country.
The original engine compartment of the Z didn't look too bad, but was not correctly painted or detailed, and many of the original parts were gone. However, the original block, heads, radiator, intake manifold, fan and shroud, harmonic balancer, flywheel, bellhousing, voltage regulator, deep groove pulleys, smog system, M-21 trans, and 373 12 bolt posi were original. Finding the rest of the parts was like going on an expensive scavenger hunt. But, I found what I needed. Just bring lots of money!!!
A special thanks goes out the Chris Cox at Camaros Only, La Habra, CA., for his countless hours spent on the sub-frame restoration. And thanks to Jerry MacNeish for providing me with some of the more rare original Z28 parts.
Click on my Pace Car above to see my 1969 Indy Pace Car Website for the most comprehensive Z11 Indy Pace Car information on the web.
NEW "WRECKS TO RICHES" PICS
AND NEW "PAINTING 101" PICS See The Pinstriping Disaster That Caused Me To Have To Sand Off My New Paint Job. See The Finished Bike Pics. Click Above To See More
Camaros Unlimited Will Be Building Big Block 1969 Camaros For Future Sale. It Is Possible, That I Will Build Cars For Customers In The Future. I Apologize For The Inconvenience.Keep Checking Back For Future Projects. The Next Project Will Be A '69 Big Block With A Tremec 5 Speed Trans, 373 12 Bolt Posi, Hopefully On A Cortez Silver Body, With Possibly Some Suspension, And Brake Upgrades. So, Stay Tuned.