Most of the links below are related to early Camaros. But I may sneak some other stuff in too.



Southern California's largest first generation Camaro car club.



One of the best sites for Camaro technical data relating to decoding build sheets, cowl tags, and VIN numbers. They have the largest Camaro registry in the country.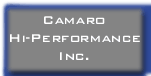 Jerry MacNeish's web site featuring everything needed to restore your Camaro.



Rick's First Generation Camaro site has every part necessary to completely rebuild your Camaro. Great prices too!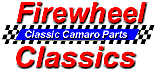 A complete line of parts for your total Camaro restoration.
Danny's '69 Z28 Restoration Site
Pictures, restoration information and links of Danny's '69 Z28 Camaro.






AMC offers complete frame-off restoration services as well as technical advise and a full line of NOS and reproduction first generation Camaro parts. This is an awsome site.
Corvette Picture Gallery
Hundreds of pictures of Corvettes from the beginning to present.



A great source if you are looking to buy or sell your first generation Camaro.

Steve's '69 Camaro Site
A great site with lots of information. Plus, a registry for your Van Nuys built Camaro.